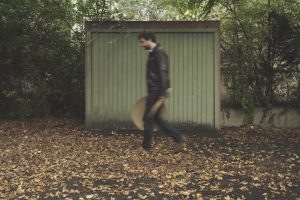 Peter Gall is a drummer and composer, living in Berlin. He was born 1983 in Bad Aibling (south of Germany). Peter studied drums with John Riley, John Hollenbeck and composition with Phil Markowitz, Dave Liebman, Jim McNeely and holds a diploma from the University of the Arts / Jazz Institute Berlin He lived in New York for 2 years based on a DAAD-Scholarship and graduated with a Master Of Music from Manhattan School of Music Peter Gall shared the stage with Kurt Rosenwinkel Trio, NDR Big Band, The New York Voices, Take 6, Roberto DiGioia's Web Web, Thomas Quasthoff's Quartett, Nils Landgren, Max Herre, Joy Denalane, Afrob, Tony Lakatos, Seamus Blake,  Dieter Ilg Trio, Alan Hampton, Alan Praskin,  Blume, Chris Gall, Johannes Enders, Wanja Slavin's Lotus Eaters, Jasmin Tabatabai, Gabriel Rios, Enik, Kim Sanders, Ben Street, Fabian Almazan, Gwilym Simcock, Vinicius Gomes, Pablo Held, Linda Oh, Peter Fessler, Peter Herbolzheimer, BuJazzO, Gitte Haenning, Torsten Goods, Henning Sieverts, MSM Jazz Orchestra, Lutz Krajenski Big Band, Jeff Taylor, Majid Bekkas, Glenn Miller Orchestra, Berliner Konzerthausorchester, Deutsches Filmorchester Babelsberg, Bielefelder Philharmoniker, Sunday Night Orchestra and many more He appears on various recordings on labels like ACT, Fresh Sound, Enja, Skip, Traumton, Compost Records, Agogo Records, GLM, WhyPlayJazz, …. and toured in Austria, Bulgaria, Canada, Czech Republic, Colombia, Ecuador, Estonia, Ehtiopia, Finland, France, Georgia, Hungary,  Italy, Israel, Luxembourg,  Madagascar, Mosambique, Netherlands, Poland, Russia, Serbia, Simbabwe, Slowenia, Switzerland, Turkey, Ukraine, United Kingdom, USA.
Together with his own group, the "Peter Gall Quintet", he won the 1st prize at the prestigious BMW Welt Jazz Award 2020.
Since fall 2021 Peter is holding a professorship at Staatliche Hochschule für Musik und Darstellende Kunst Mannheim and is teaching Jazz-Drums and -Ensemble.
Peter plays  ZILDJIAN cymbals (check profile on Zildjian website) and VIC FIRTH sticks and brushes.
Press Reviews "Peter Gall – Paradox Dreambox":
"German percussionist Peter Gall's debut is, quite simply, amazing. At times it sounds like a traditional jazz while at others it's more of a cosmic, psychedelic exploration. (…) Is this album weird? Indeed. But it is a gorgeous liste easy to love? You bet." Treblezine, 10 best Jazzalbums 2018
"Viele Jazzdrummer von heute ticken irgendwie anders – im Idealfall so wie Peter Gall."  Jazzthing
"Galls Musik erwies sich als anspruchsvoll gefächertes Konglomerat unterschiedlicher Stileinflüsse, die sich nicht mit schlichten Songstrukturen begnügten, sondern Klänge, Melodien, Einzelteile schichteten und verwarfen, verzahnten und entkernten, konkretisierten und relativierten. (…) Es war ein Jazzrausch für Fortgeschrittene" Neue Musikzeitung
"Kaleidoskop moderner Jazzsounds, die Peter Gall da kunstvoll verknüpft" Süddeutsche Zeitung
"Außerordentlich reif wirkender Erstling."  Jazzthetik
"Mit "Paradox Dreambox" stellt sich Gall nicht nur als versierter Schlagzeuger vor. Er setzt darüber hinaus auch eine musikalische Duftmarke, deren feine Mischung aus persönlicher Stilistik mit in reicher Hörerfahrung verwurzelten Kompositionen wirklich begeistern."  Mannheimer Morgen
"Es war ein Erlebnis, diesen Klanggeschichten zu lauschen und sich in unterschiedlichste Stimmungen hineinversetzen zu lassen."  Oberbayerisches Volksblatt
"Der Drummer Peter Gall, der sich in die erste Reihe des jungen deutschen Jazz getrommelt hat, hat erkennbar die Fähigkeit, musikalische Individualisten zu einer effizienten Formation zusammenzuschweißen(…) Galls Kompostitionen (…) sind kleine musikalische Pralinen, die ins Ohr gehen und auf der Zunge zart schmelzen." Erlanger Nachrichten
"Ein großes Jazzkonzert." Die Rheinpfalz
"Cinematic ambience, electronic washes, and indie-rock flourishes actively coalesce with the contemplative chamber jazz reveries and edgy post-bop eruptions. But what all this talk of genres boils down to is that Paradox Dreambox is music for an imaginary film: catchy melodic hooks that hint at monumental scenes, rhythmic chatter that doubles for dialogue, and diverse expressionism, as if replicating a large cast of personalities." Best of Bandcamp, Best Jazz Releases October 2018
"Was für ein Tempo, was für eine Brillianz, was für eine Musikalität: das Quintett des Schlagzeugers Peter Gall"  Roland Spiegel, Bayern 4 Klassik
"…zehn wohldurchdachte Nummern voll tragender Melodien. Die überkreuzen und vereinen sich, treten vor und zurück, verschränken verwandelte Rhythmen ineinander und bilden einen wunderbar geschlossenen Organismus." Stereoplay
"Melodisch wie rhythmisch farbenreiche Soundscapes voller raffinierter Details."  Fono Forum
Eine rundum gelungene Aufnahme voller Kraft und Schönheit."  Jazzpodium
"Kennzeichnend für die Aufnahme ist aber nicht nur das schlafwandlerisch sichere Interagieren der Musiker, das Gall mit seinem filigran-antreibenden Schlagzeug- und Perkussionsspiel verdichtet. Wie ein Kommentar aus einer anderen Welt liegen immer wieder Synthesizerflächen unter dem Geschehen ausgebreitet, mal watteweich-einlullend, mal bedrohlich pumpend wie aus dem Soundtrack von "Stranger Things"  Rondo Musikmagazin